As organizations have increased their use of remote work tools, usage of Zoom has risen dramatically. With this said, some major flaws in Zoom's security emerged , along with a growing concern about privacy and confidentiality. Zoom immediately responded to that, and worked to improve its security and privacy policies.
For most users, Zoom is safe. However, there may be times when it is necessary to gauge the confidentiality of meeting content and configure Zoom to be more secure, or to opt for another tool altogether.
Use the guide below to configure your Zoom account to increase your privacy and improve your experience for different types of remote meetings in your nonprofit.
Open meeting - no private information shared
If you are using Zoom for an open discussion and want to make your attendance as easy as possible, the default security settings are for you. You must be careful not to share any private information in the meeting.
Board meeting, team meeting, private and confidential meeting
 If the meeting is likely to lead to the sharing of private content, either in a presentation or a chat room, we recommend enabling the following security features:
When scheduling the meeting, check to make sure that you have requested a password and that only the expected participants have the password.

Expand the Advanced Options section at the bottom of the meeting scheduling, make sure the meeting is configured to require participants to authenticate and log into

Zoom

. If they do not have a

Zoom

account

, they will be required to create a free account.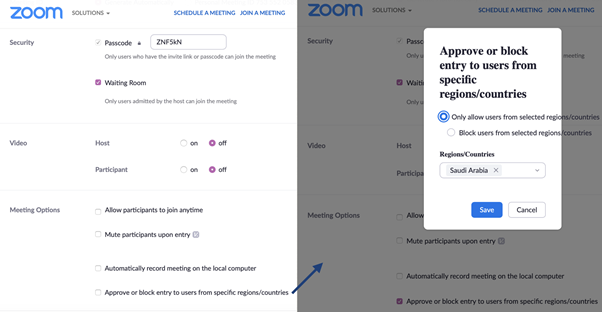 تمنحك "الخيارات المتقدمة" أيضًا خيار تمكين "غرفة الانتظار" حيث يمكنك عرض المشاركين الذين انضموا ثم السماح لهم بدخول الاجتماع.

تتيح لك ميزة أخرى في منطقة الخيارات المتقدمة اختيار مطالبة

Host

بالانضمام إلى الاجتماع أولاً. هذا يضمن أن

Host

يمكنه إدارة المشاركين عند انضمامهم إلى الاجتماع.

بعد أن تبدأ الاجتماع وينضم المشاركون المتوقعون إليه، قم بإغلاق الاجتماع من لوحة إدارة المشاركين. هذا سوف يمنع الآخرين من الانضمام.

بمجرد بدء الاجتماع، قد لا ترغب في السماح للآخرين بمشاركة شاشتهم أو استخدام ميزة الدردشة أو إعادة تسمية أنفسهم. أصدر

Zoom

زر أمان جديد لـ

Host

على شريط الأدوات. عند النقر فوق الزر، يمكن لـ

Host

تقييد هذه الأنشطة وتعيين خيارات الأمان الأخرى.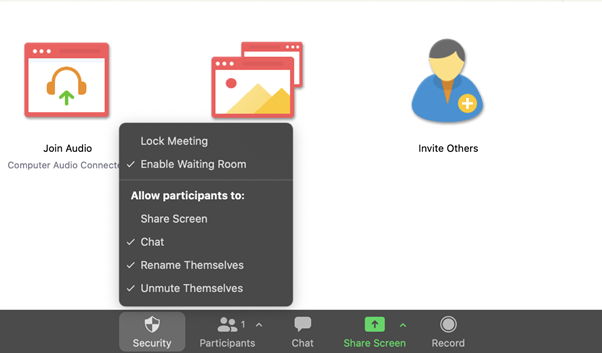 بالنسبة لاجتماعات الفريق، من المناسب تمامًا استخدام الإعدادات المذكورة أعلاه، باستثناء تمكين غرفة الانتظار ومطالبة Host بالانضمام أولاً. بهذه الطريقة، يمكن للمشاركين بدء الاجتماع قبل أن ينضم Host إلى المكالمة. ومع ذلك، إذا كان هذا الفريق يخطط لمناقشة المعلومات الخاصة والسرية - على سبيل المثال ، المعلومات الشخصية للموظفين - فسيكون من الأفضل اتباع جميع الإرشادات المذكورة أعلاه.
لقاء تطوعي
 إذا كنت تستخدم Zoom مع متطوعين وكنت واثقًا من عدم مشاركة معلومات خاصة في الاجتماع، فيجب أن تكون إعدادات الأمان الافتراضية كافية. ومع ذلك في هذه الحالة، نوصيك بطلب كلمة مرور.
اجتماعات مسجلة
إذا كنت تنوي تسجيل اجتماعك، فلديك خيار حفظ التسجيل على جهازك أو حفظه في السحابة. يمكنك فقط الحفظ على السحابة باستخدام حساب مدفوع.
You can configure the registration to be password protected or only available to those with the same account information. If you are concerned about content privacy, you should definitely consider enabling these two features.
Written by: Michael Ennos is Senior Director, Community and Platform at TechSoup .